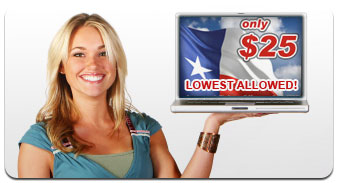 Texas Defensive Driving Online
At Texas Defensive Driving we do one thing, and we do it very well: offer you Texas Approved Online Defensive Driving. With a name like TexasDefensiveDriving.com, it's no surprise that we are leading the way in Texas with quality, educational driving school courses that are always online. If you need to fulfill your Texas defensive driving requirement and you prefer to do it online, make us your first choice.
Not sure if our Online Defensive Driving Course is right for you? In short, if you are looking for an easy online defensive driving course, an inexpensive online driving course, a state approved online defensive driver course, and a defensive driving course online for you insurance discount, then Texas Defensive Driving online is the ideal course for you!
Online Defensive Driving For Texans
When Texans need online defensive driving, they point there mouse at TexasDefensiveDriving.com. We have the leading online defensive driving courses that Texans continuoasly turn to for their traffic ticket and insurance discount requirements.

Here's a list of why our Online Defensive Driving Course is right for you, in order to help you make a well informed decision.
Always available online and convenient for your busy schedule
Online Defensive Driving for only $25
You have 90 days to complete your online driving school course
Interactive videos to keep you entertained
Free course certificate shipping
Completion certificate processing included
Insurance Discounts up to 10% for completing online course
Approved by all Texas courts for online traffic ticket dismissal
Friendly and helpful customer support is available to help you
Login and logout as many times as you want
It's the convenient online safety course - take it anywhere you can get the Internet
Rush certificate delivery options are available
No hidden fees - get it all for $25
Online course is broken down into easy to read sections
No final exam!
No boring class to attend - it's 100% online
TEA - Texas Education Agency Approved
We can help you get your Texas DPS Driving Record
Links to several helpful TXDPS Links
Complete the course at your own pace - take your time or finish in the minimum required 6 hours
Learn NEW Texas driving laws and changes to existing driving regulations
Have 1 traffic ticket dismissed every 12 months
Learn defensive driving skills that will help keep you collision free
We speak English AND Se Habla Espanol!
We have great parent taught teen drivers education programs too
It's the online defensive driving course that is fast, fun, and easy
Online Defensive Driving = Easy Defensive Driving

Texas defensive driving is the favorite way for you to go online and dismiss any traffic tickets you have gotten while driving in Texas. This Texas defensive driving online course is prefect because it is 100% online, while completely satisfying all of the same requirements that a traditional defensive driving school classroom course does. Working a busy schedule and don't have the time to attend a faraway classroom? Then our online TX course is ideal for you - stay at home and spend your day with your family, not an office classroom full of strangers.

Online Defensive Driving Course From Home
Complete our entire Online Texas Defensive Driving Course from the peace and comfort of home, going at your our own pace. Our online course contains valuable information, flash lessons, and interactive videos that will take your Defensive Driving School experience to the next level. Both educational and entertaining, you'll love to learn while earning your traffic ticket dismissal certificate.
Go Online and Skip the Defensive Driving Class
When you choose Online Texas Defensive Driving TexasDefensiveDriving, you choose a hassle-free, nothing-to-hide course that you can complete according to your schedule, at your convenience. It's real simple: Enroll online and pass the straightforward course sections to earn your completion certificate and you are all done. There's no final exam! TexasDefensiveDriving is the smart online defensive driving solution to your traffic ticket blues. Since we are Texas approved to offer insurance discount courses as well, you can also get a nice 10% auto insurance savings.
Last Minute Defensive Driving
Online TX Defensive Driving with TexasDefensiveDriving.com is fast, simple, and trouble-free. If you are in a hurry to finish your defensive driving course, then our online program is they way to go - just click 'Register Now' to enroll instantly, register for the course online, get started without delay and finish the course in less than a day! Our online, TEA Approved TX Defensive Driving Course is the flexible way to erase your ticket - day or night, weekday or weekend, on your home PC or from the coffee shop. It's online, so the time, day, and place is entirely up to you.