An excerpt From the Driving Blog of Alan Bryman, Jr, Monday Feb 8th, 2010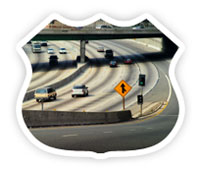 "Another typical day in Houston for me - more major brain frustration.. I got my 2nd ever speeding ticket last week… drggggg. As if the day wasn't already sucking enough with Houston's agonizing OT loss to Phoenix (who is looking really good this year, I might add, Finals?)…double-drgggggg. Those Rockets will eventually explode one of my arteries…anyway, I digress. My warning to my fellow Texas drivers - watch out for seemingly increased Texas State Trooper activity along I-45, especially southbound. I was on my way home from Houston back to Galveston when my 86mph butt got pulled over just outside League City.
So as if the speeding ticket wasn't enough torment, I find out from my loving wife as she yelled at me, "You gots to get yourself some defensive driving school fool". Will someone finish me now? Last thing I need/want/desire, in this already troubled world, is to add more agony to it by going back to school to listen to some dimwit teach ME, God's gift to driving, how to drive.
Well well well, turns out you can now do defensive driving online. Sounds wrong, doesn't it, learning how to drive online? Well, I guess it's because they don't really teach you how to drive - it's more of a refresher on all the Texas driving rules; the same sort of exciting stuff we used to learn back in drivers ed. Yay. Wasn't half as bad as I thought it would be, if you don't mind sitting around for a few hours. It was easy for sure, granted I'm probably a lot smarter than you (so I like to think). My course was finished in one days sitting with a lot of coffee.
Here's where things start to kick me where it hurts. So I get my defensivedriving certificate in the mail a few days later, easy peasy, right. Well, to actually get rid of the ticket, you have to bring the certificate to the court. Fine, I hop in my car and make way for Galveston Municipal Court down on 54th. Well, on my way to 54th, I must have been driving 54mph (in a 35mph), because wouldn't you know it, I saw another pair of cherries flashing behind me. And you think the cop would find some humor in the situation, might let me off easy? Wishful thinking. It was at that time I first wondered, "Am I the first person to get a speeding ticket while on his way to have another speeding ticket dismissed?" I almost cried.
And even worse, when I went back to TexasDefensiveDriving.com to sign up for defensive driving school, I find out that you can only drop one traffic ticket every 12 months with defensive driving.
So in the end, I end up going to defensive driving school and STILL having to pay for my new ticket, which, because I was 20mph over the speed limit, was almost twice as expensive as my original ticket.
Moral of the story: Only get caught speeding ONCE every 12 months!"

This article can only be reused for web publishing if the article left in its entirety in tact and a return link to TexasDefensiveDriving.com is included.