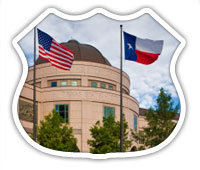 Fort Worth DPS (Department of Public Safety) Online Services
Looking for answers to all of your Fort Worth driver's license questions? We strongly recommend that you visit the official Tarrant County DPS website to obtain the latest traffic rules, traffic laws, and vehicle regulations. While we are happy to provide Fort Worth drivers with driving resources and quality defensive driving programs, the Texas DPS always has the most accurate and updated info. We hope that you will find this list of the most popular Fort Worth, TXDPS links helpful.
Were you looking for Fort Worth Driver Safety Course info instead? If you need more detail about Driving Safety Course Requirements, requesting driver safety in Tarrant, the time you have to complete your course, driving records, online classes, class locations, proof of completion, or other general defensive driving questions, click here.
Fort Worth TX Online DPS Services
Fort Worth Driver License and Identification Card Information
Teen Driver Information in Fort Worth
Fort Worth Commercial Driver License Information (CDL)
Publications, Fort Worth Handbooks, and Forms
Reinstate Fort Worth Driving Privilege
Fort Worth Driver Record Report
Additional Tarrant County Information
---
Fort Worth DPS Office Locations
Fort Worth
6413 Woodway Drive
Fort Worth, TX 76133-5536
817-294-1075
---
Nearby Forth Worth Cities
Forest Hill, Haltom City, Bedford, Colleyville, Saginaw, Watauga, Crowley, Richland Hills, White Settlement, Benbrook, North Richland Hills, Hurst, Arlington, Burleson, and Keller.
---
**The following information pertains to TexasDefensiveDriving.com's online Fort Worth Texas Approved Defensive Driving course and is not owned or operated by the Texas Department of Transportation

Be A Safer Forth Worh Driver
Sure, our online Forth Worh defensive driving class save you time, dismiss your traffic ticket, and get you an insurance discount. But don't over look a huge benefit of our course: you will become a more informed, more knowledgeable, and safer defensive driver.
Defensive Driving Safety Course Requirements
You may be eligible to take a Driving Safety Course (DSC) on any one of the moving violations shown on the ticket you were issued. You can not take more than one driving safety course per year in Fort Worth or anywhere in the State of Texas to get a ticket dismissed. Also, if you were ticketed for any of the following violations, you may not be eligible to take a Fort Worth Driving Safety Course for that particular violation:
Speeding ticket for 25 mph or more above the posted speed limit in Fort Worth
No auto insurance or failure to maintain financial responsibility
Leaving the scene of a collision in Tarrant County
Illegally Passing a School Bus
Ticketed while driving in a Construction Zone when construction workers are present
Cited while riding a bicycle or riding a man-powered vehicle that is not a car
Also note: If you held a commercial driver license at the time of the traffic violation issuance, you are not eligible to take Driving Driving Safety Courses, even if you were driving a non-commercial vehicle at the time of being cited.
How Often Can I Take a Safety Course in Fort Worth
No matter where you live in Texas, be it in Tarrant County or otherwise, you can only take a Defensive Driving Safety for ticket dismissal once each year. Also, you have to request permission to take this electronic driving school course for purposes of ticket dismissal BEFORE the appearance date shown on your ticket citation. Further, your Texas DPS driving record must show that you have not yet completed a Defensive Driver Safety Course within the past year preceding the exact date of this moving violation offense.
Keep Your Forth Worh DPS Record Clean
Got pulled over in Tarrant? Want to keep traffic points off your official Texas DPS driving record? Complete our court approved defensive driver course and have your citation dropped and keep your driver record free of traffic ticket points!
How long Do I Have To Complete My Driver Safety Course
If you meet all Fort Worth court requirements for attending Defensive Driver School, you have 90 days from your court REQUEST date to finish the Defensive Driving Course (or Motorcycle Operator's Training Course (MOTC), if applicable). Remember to allow sufficient time for you completion certificate to be received from TexasDefensiveDriving.com (your defensive driving school). Your court will also need to see a certified copy of your official DPS driving record. We can help you obtain your driving record as well.

**Note that you do not have to set up a court appearance date to talk to a prosecutor for permission to take a defensive driving course. Just go to a Tarrant County court location within 10 days of your citation and request permission to enroll in a Driver Safety Course, like our TEA Approved TexasDefensiveDriving.com.